We sheared on Tuesday so now we have a bunch if naked alpacas in the yard…Its so easy to forget how tiny they are without their fluff!!!
Its so interesting to see the different reactions of the different animals…some are calm and like whatever…some scream and some spit. For the ones that spit (like Athena below) we put a sock over their mouths otherwise they get green slimy stuff everywhere!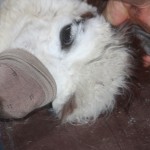 Sammy and Tioga came for a visit. Last time they were here they were little!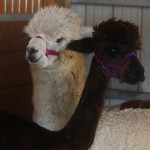 That's all that's exciting at the moment. Hopefully we have some babies soon!